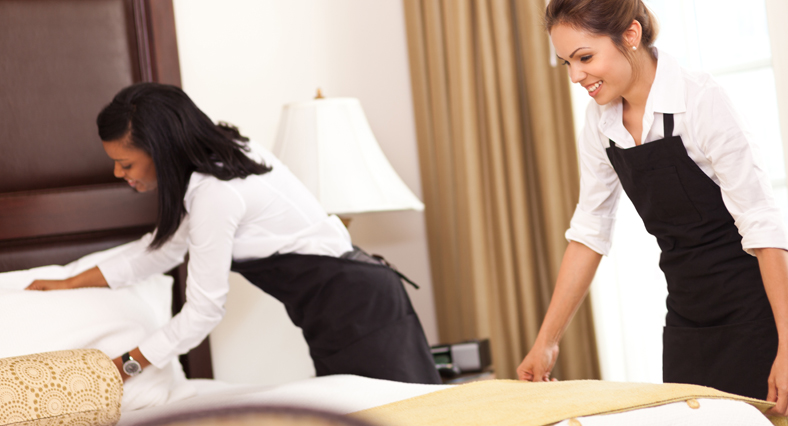 When it comes to delivering executive housekeeping cleaning services to clients, our commercial cleaning team of cleaners at Let Inside & Out Cleaning and Maintenance has you covered so you can take care of what's really important, Your Guests.
It's certainly no surprise to find out that most guests rank cleanliness as their top criterion when selecting accommodation. And, while other factors such as service, amenities, location and distance to transport also rank highly, the truth is that nothing tops a clean, tidy room; a sparkling bathroom; and, fresh crisp linen.
Let Inside & Out Cleaning and Maintenance Team and its team of cleaners' pursuit of excellence and superior service delivery has meant our commercial cleaning company has excelled where others have failed. It is also our specifically trained and selected cleaners that have grown our reputation as quality commercial cleaners in the executive housekeeping cleaning services industry.
We provide both regular cleaning services solutions and numerous commercial cleaning specialty services across a range of establishments to make your life easier and hassle free, including:
Executive Housekeeping Cleaning Site Types:
• Accommodation Rooms (hotels, motels)
• Common Areas
• Restaurant
• Function Areas
Commercial Cleaning Solutions:
• Room / Kitchenette Cleaning
• Indoor Window Cleaning
• Carpet Steam Cleaning
• Hard Floors
• Refurbishment Cleaning
• Commercial Cleaning Specialty Services:
• Supply of Guest Amenities
• Linen Supply
Housekeeping and commercial cleaning is not an activity that can be taken lightly. From guests to visitors to staff, an unclean and unkempt hospitality establishment places your bottom line in serious harm. While positive reviews about the cleanliness and professionalism of your hospitality establishment can spread quickly, the fact is that negative reviews can spread like wild fire – online or in person.
Without doubt, the cleanliness of your accommodation is a key element of how your brand and service is perceived. It really does have the power to hinder your success. And, this is where a quality housekeeping / commercial cleaning service and highly trained cleaners, like the Let Inside & Out Cleaning and Maintenance Team of cleaners, are worth their weight in gold, maintaining a quality presentation and attracting patronage.